Hi there,
This has been one wierd cycle. Usually my pre-O temps sit around 36.1 - 36.2, as you can see they are high for me this month. I started out the month with a migraine, but migraines have never affected my chart before, and I haven't been sick.
Usually I O around CD16, but apparantly O was on CD11 this cycle
According to my temps it seems pretty clear that I O'd then, but my opk's are confusing me. Here's a run down...
CD10- very faint second line
CD11- 3/4 strength second line (tested a bit late thought)
CD12- 3/4 strength second line (bit stronger than CD11)
CD13- faint second line
I'm thinking I should have got a +opk on CD11, but I tested a bit late and I think my urine may have been a bit diluted. Still doesn't agree with O'ing the same day though.
TMI alert, EWCM has been much more abundant than usual aswell!
I've been receiving acupuncture for my migraines, could this have had this effect on my cycle?
So here's my chart...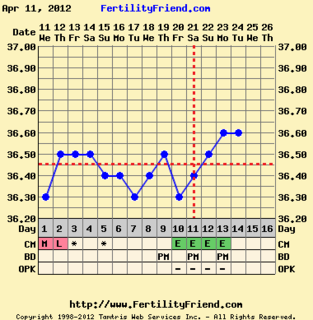 WDYT? I know things may change depending on my temps over the next few days, but it seems pretty clear that O has passed me by...
Thanks for your opinions!