Yesterday I bought a gorgeous 5mth old Ragdoll kitten. Her owners were moving and couldn't keep her.
Just a couple of questions, more specific to the breed and how to keep her healthy.
What do you feed your Ragdoll kitten?
How much do you feed them?
What brush do you use?
How often do you bath?
Also what do you do to help with hairballs?
If there is any other questions I should ask or and info you have for me I would be grateful.
Thanks
As promised here she is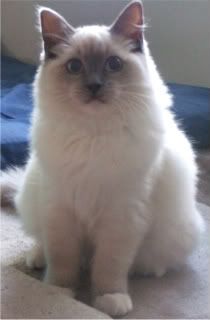 Edited by MrsG, 04 June 2010 - 04:25 PM.