Morning Ladies,
Well I finally did my full handover for work yesterday. I only have one more outstanding item which is a assessment to write. I'll do that on Monday when the kids are at daycare though. So YAY, no more work for me!!!
Melli:
Love your belly shot. Your bump is really cute. Is the pg support belt you're wearing the ones you get from the physio for SPD? You poor thing with your feet. Are they really sore as well? My advice would be to lie on the couch with a few pillows under your feet so they are higher than your head. Not to sure how the SPD would cope with that though.
Maddy:
How is your DP now? Are the headaches everyday or less frequent? Do you know what you are having and are just keeping quiet or is it going to be a surprise? (sorry I can't remember)
Lauren:
I'm not game enough to get waxed down there while pg. I've heard that it hurts heaps more. How was your hair appointment? I'm thinking of getting mine done either this monday or the following, but like you I'm dreading sitting in that chair.
Carly:
How was the visit to your friends? I can't wait to see my friends little (lol well 10lb12oz) girl. She lives over the other side of the city though so it's a matter of being organised enough without the kids to get there. I'm with you on finishing work early. I originally planned to see if I could get to 35 weeks. Pfft so much for that. I finished at 31. You poor think with your gall bladder. My sister had bad gallstones with her last pg but didn't know what it was. I went to the hospital with her thinking she was in labour it was that bad.
Kiralee:
Sorry I haven't said hi yet, so
and welcome.
K:
How did Mik go with the interview yesterday? I'll be keeping my fingers crossed he gets something here really soon. And how sweet is he with the flowers and chocolates. I actually said to DH yesterday that I would be thinking he's having an affair or is up to something if I got flowers out of the blue. YAY for you and Mik having a great lunch - and really yummy I might add. Hope Gael feels better quickly.
Cally:
LOL the last time I got flowers was when Jack was born as well. It must be really the week for all of us to struggle. It sounds like most of us are not coping with the pain and no sleeping.
I hope you get some more sleep soon.
bumbum:
With the sciatica you sound just like me with my last pregnancy. For the last 8 weeks I would cry every morning just trying to get out of bed. How are the floorboards going? DH laid ours a few months ago in the back hallways and kids rooms. I love them - so much better than the carpet we had. Love your belly shot.
melsb:
Glad to hear your midwife appointment went really well.
Helen:
Yay for being on Maternity leave now. That buffet & hutch are amazing. Your DH is very talented. LOL my DH is like Tim the Toolman. And you should have told the lady at medicare to shove it. People and their insensitive comments really p*ss me off. I don't think your belly pic looks smaller. I think they both look great. I'm sorry but I LMAO over your
incident. Glad your DH has a sense of humour. I don't think mine would have been able to handle it. I'm glad you are starting to feel heaps better now. I think there is nothing worse than being pg and sick.
Jo:
at your DH and his "elective" c-section and his bits tingling.
SueK:
Congratulations to your friend. I'll be keeping my fingers crossed for them. Hope you're having a great holiday in Hahndorf. I haven't been there for years. I loved it. I'm jealous.
Donna:
Good timing for the sciatica to go away. When in your DH home again?
Alicia:
LMAO at taming the furry mammal. I find razoring it too difficult now. I think I might pull out DH's old electric shaver this arvo and give that a try. Brilliant news on the CTG result. I love your belly pic. LOL I always get excited when I see yours. Maybe cause I know there is 2 in there. And yeah it looks like it's dropped heaps. Maybe your boys will come of their own accord sooner rather than later.
Addison:
Don't stress about the low pain threshold. Seriously I am a massive sook at the best of times, but come labour I actually surprise myself. It's weird because although the pain is intense, it's still nowhere near as bad as I ever expected (says the woman who ended up havng epidurals for both in the end LOL) And seriously, don't every feel you can't vent - that's what we're all here for. And I can tell you that most of us are feeling just the same.
rachael-f:
I agree with K (lol again) and think a really personal gift that would be meaningful to them would be the go.
My take on the epidurals:
I had both of mine while sitting up curled over. I just had a monitor on so we could see the contractions starting before I could feel them so they knew to stop trying until the contraction had passed. I agree with K though, the local injection bloody stings, but you can't actually feel the epidural - it just feels like a bit of pressure and cold. They had trouble with both of mine (took 5 goes with Jack and I had a bruise the size of a fist the next morning). Aparently if you are overweight it makes it harder for them to judge exactly where the epidural layer is. (Well that was their excuse and I am considerably overweight) But all in all, I will most probably have one this time. I figure why be in pain when I don't need to.
Anyone who is having their 2nd, or 3rd, or 4th or 7th () baby, is there anything that you will take or use or do during your labour that has become a bit of a ritual sort of thing???
Actually no. This time I'm going to try something different. I'm planning on holding out on the epidural as long as I can and using the shower for pain relief (I never tried that with the boys). This time I want to try different positions as well. Both boys were delivered on my back in stirrups, so this time I want to give gravity a chance.
As for what I've been up to:
Last Tuesday I spent the day in hospital having an iron infusion done - all up it took about 6 hours. The hospital I go to has a pregnancy daystay ward, so it was good and relaxing. I remember people talking about iron from the last thread. Mine keeps going down and down and although I'd doubled my iron tablets it still went down. Hence having the infusion. Weird though as I thought I'd feel less tired really quickly, but it hasn't seem to have made a difference.
I also had my scan on Tuesday and it's all confirmed 100% that
BabyB is a little girl.
It's also confirmed that she is as unco-operative as her brothers as this was the only clear pic we managed to get: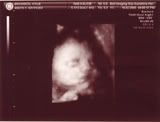 As for her being huge - the ultrasound estimated that she was 1.9kg. They worked out for me that at the rate that babies should put on weight, if I was to deliver at 40 weeks she'd be about 4kgs (8lb 13oz). So yes, still a larger baby - but almost 1kg less than Jack so I'm really happy with that.
And while I'm on such a roll with a monster post, I may as well add in my latest pg pic. Taken this morning at 31w+4.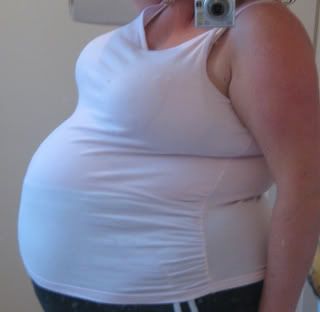 Well since I started writing this at 9.30am and it's now 1.15pm I should really stop now.
Hope everyone is feeling ok and massive
too all with the pelvic pain. I so know how you feel.
Kylee
ETA: Sorry about the pic size. it's only thumbnail size on photobucket so I don't know what's going on. I'll try to fix after I've eaten lunch.
Edited by The B Boys, 22 February 2008 - 12:09 PM.