Many of you have been such a huge part of my journey so I wanted to share to story of our Baby Boy's birth with you all. It's a long story, but it was a flipping long labour so there is plenty to share.
If the read is to long scroll for cute photos at end
Preparation
As the due date was approaching I felt incredibly ready, I was excited for labour and the birth and I dreamed every day of the moment I would first cast eyes on my baby boy. Being a logical and research based person early on in our journey I had realised that a natural drug free birth represented the experience I wanted. Aside from the comfort in knowing that a drug free birth meant the highest likelihood of a healthy baby, I also wanted to take back some ownership of my body. The process of falling pregnant was gruelling and involved a high degree of medical intervention, I was seeing a Fertility specialist, Endocrinologist and Fertility Naturopath simultaneously following a strict schedule of medications (up to 25 pills a day), a strict diet and numerous lifestyle changes. Having lost 3 babies before I had lost faith in my body to be able to create a life and found trying again to be an anxious and painful time.
At 27 weeks we attended a Calmbirth Course and everything just clicked with us. I found the science behind how your hormones and muscles work to be fascinating and left with the confidence that my body was able to have this baby. DH now felt far more involved in the process as we were going to have this baby as a team and he would need to provide support, guidance and coaching through every moment.
As my pregnancy progressed I reread the course notes and practiced 'Calm breathing' but worried that I wasn't practicing enough as I would doze off or get distracted. I wrote dot points for DH to look at when I was in labour that would act as our toolbag of methods and ideas to keep things on track, this included affirmations and visualisation ideas, alternatives to pain medications and our preferences. My IPhone was ready with 3 separate labour playlists, As I love music and find it a stress relief I was sure this would be a huge focus for me.
I tend to be the type of person that likes to be in total control, everything organised. Uncertainty or lack of control can cause anxiety for me- So It was going to be a very new experience surrendering myself to the process of labour.
Given we wanted a drug free birth we wanted to avoid the potential of induction. At 39+2 I had a stretch and sweep performed by my OBGYN after he confirmed my cervix was 1cm dilated and soft, followed by 2 acupuncture appointments. This encouraged the muscus plug to begin to come away. On the following few nights I would wake with contractions that would become regular and begin to come closer, then after a few hours they would slow and cease.
The labour
On Saturday morning (39+6) I experienced some bleeding so called the maternity ward and they asked me to come in for some testing. The midwife got a faint positive for it being amniotic fluid but my OBGYN decided it was most likely a false positive and asked me to head home and wait for labour to begin.
That evening at around 7pm contractions began again (after expressing some colostrum), I snuggled up to DH watching a movie and closed my eyes to breathe through each contraction. At about 11pm DH suggested a walk to help encourage things along and so we went for a walk around the block, pausing for each contraction. We then hopped into bed to rest and I tried to get 7 or 8 minutes rest between each contraction. After 1.5 hours they became too intense to stay in bed through and I hopped into the shower. I swayed my hips from side to side breathing deeply through each contraction, after a few hours they shortened to 6 minutes apart, then 4, then 3. During this time I would visualise the baby moving down and myself opening for him, I repeated the word "open" over and over as contractions eased off. I also visualised my uterus drawing upward to move the baby down. I caught myself tensing a number of times and reminded myself to go limp and to not fight the pain or tense around it. I would feel an immediate reduction in pain as i would release the tension.
After an hour of contractions at 3 minutes apart I woke DH and he checked in with the labour ward to let them know how we were progressing. They advised since we didn't require pain relief to keep going for a few hours at home then come on in. shortly after the contractions slowed back to over 10 minutes apart and I hopped back into bed to rest up, getting another hour or 2 of broken sleep between the surges.
I had read that some people feel contractions as intense pressure rather than 'pain', for me in was certainly both but the pain felt productive and important, rather than an indicator of a problem. If I were to rate the insensity of the pain I'd say it was already at a level I had never before experienced, but I felt calm, confident and the sense my baby was on his way.
As day broke on Sunday morning (Our babies due date) the contractions were still between 8-10minutes apart and weren't loosing intensity. I alternated between sitting up on the lounge, on the fit ball and rocking my hips leaning against the buffet table. Eventually the only way I could breathe through the contractions was to hang off DHs shoulders hugging him and swaying through the surge. He would breath into my ear to help calm me. We played acoustic music and he made me light snacks.
Around lunch time we decided to do some laps of the backyard to help things along as the contractions were not getting closer together. I was feeling exhausted after the short and broken 7 minute sleeps the night before. After 20 minutes of light walking the contractions began to ramp up. As the pain would shoot down my legs and make them turn to jello and give way I would hang off DH as a dead weight. Once inside I sat with my legs crossed up on the lounge and closed my eyes breathing deeply with each surge. After an hour or so I opened my eyes and had DH start to time them and he confirmed they were all around 4 minutes apart. They began to become more difficult and the pain in my back significantly intensified. Although the contractions were timing regularly the intensity was still varied, but the pain was several levels beyond anything I had ever experienced or imagined. This lead me to believe things were on the move, so after some time of this I decided we should head into the hospital. I felt I'd made some great progress over the past 19 or so hours.
On the drive in I listened to a calmbirth CD and found every bump and divit In the road to send a sharp pain through the centre of the current contraction. I was still able to speak normally between surges. We made our way to the labour ward, with 5 contractions between our car spot and the ward (each we needed to stop and I swayed from DHs shoulders). We arrived at 3pm Sunday.
I was certain on arrival that I would be at least 4cms dialated, so when the midwife told me I was only 1.5cms and not in "active" labour I was crushed (I had been 1cm at the OBGYN appointment 5 days previous). There was an immediate shift in my attitude. I felt like all the pain had provided no progress and began to doubt if my body could progress and if I could handle the journey ahead given it had barely begun. Can I stay up a second night without sleep and still be able to birth the baby? This self doubt introduced fear which broke my focus and calm. Within an instant the pain became unmanageable and I felt like it was stacking up ontop of me. Until that moment I was confident and calm, now it was all to much and the pain was excruciating. The midwife also confirmed the baby was posterior, meaning that the labour was more painful in my back and would be slower. DH set me up in the shower with a shower nozzle on my belly and another on my back, and spent 2 hours calming me down to try and get me back to the calm I had maintained. He reminded me over and over that I could do this drug free, but that whatever I wanted he would support me in.
He google searched on his phone 'turning posterior baby naturally' and found some techniques, he spoke with the midwife to check they were safe and got the go ahead. He talked me through the positions and held me, lifted my belly, positioned me in the shower etc.
We left the hospital at 5pm on Sunday, still 1.5cms. The midwife told me they would be intervening had I not wanted a drug free birth at this stage as I was not progressing at all. She also said it's entirely possible that I would continue not to progress but it was safe to go home and try. The midwife didn't show any positivity that I would progress.
Given the shift in my positivity and confidence, the contractions remained far more difficult at home and I was upset and scared that I would be so exhausted that I would not be able to push when the time came. I did however notice the pressure had moved from being in my back towards my front.
This time is a bit of a blurr, but I remember using the bath for some time and DH spending the night encouraging me with loving and positive words. Although it didn't totally calm me it did help. As I'd lost my confidence I began to consider if drugs would need to be used and I asked DH to go through the negatives of epidurals with me. At 2am I told him I wanted to go back in and use Gas. He asked me 6 or so times if I was sure I wanted to head back in. I was sure.
On arrival at the hospital at 3am I could barely walk as the contractions were so close together, it took us 20 minutes to travel the 80m to the emergency doors then a nurse popped me in a wheelchair and zoomed me upstairs.
I asked for an internal immediately hoping that I had progressed more than 1.5cm even 2cm would have been something. On examination the midwife reported I was 5cms and that the baby had turned and was now anterior. That was music to my ears! A massive smile came across my face and I repeated over and over to DH 'we can do this, we are having this baby, we can do this!' there was now another shift in my attitude and I felt the pain change back to a manageable, calm and productive sensation. My breathing improved and I felt 100% focused. It didn't occur to me to ask for the gas, I didn't need any relief as I was doing just fine.
Although I had been very active, using gravity to help progress the labour, I was now physically exhausted and had trouble keeping focus on my breathing if I was moving. I asked DH to sit me upright on the bed, he raised the bed up, covered my legs with a sheet, positioned a pillow behind me and helped me to move into a position that looked comfortable. With each surge I would close my eyes and breath deeply and calmly. As it would build to an intense and surreal level I would say phrases to myself like 'its natural and normal, the baby is just moving down, my body is just getting closer' and as I would feel the intensity ease off 'the wave is going, it will be finished soon, that's one less contraction, you can do this'. Each contraction would start with a deep intense pressure in my bottom, a sharper pain in my lower stomache, then surges of pain that would radiate outward as the pain died down. I would sometimes notice myself tensing up as the contraction intensified. I would then go limp and I would feel an immediate improvement in the Pain level. I also tried to turn my hands so my palms were upwards to avoid digging into the bed, which worked very well.
DH was incredible during this time. In every contraction gap (if I was lucky enough to have one) he would offer water or ice to chew on, electrolytes, lollies, cold face washers, blankets etc. he was very responsive and intune with my ques as I often would only communicate with single words like 'cold' meaning I needed a cold face washer dabbed over my face or 'up' meaning please pull the sheets over my shoulders (only to have me throw them off with the heat of the next contraction). He had set himself up on an armchair within 2m of my bed and with each request he would shoot out of it and literally run whatever I needed to me, knowing the time between contractions was short. He figured out quickly that I needed every ounce of focus I had in the contraction, so his words of encouragement instead came in the gaps where he would say phrases like 'you are amazing' over and over and would talk me through some visualisations of the baby moving down. Being such a litteral person he knew metaphoric visualisations like flowers and beach waves would not work for me. When he felt I needed it he would kiss me up and down my arm and on my face telling me how much he loved me. This would make me smile and giggle.
Despite having planned to ask for gas, I didn't actually feel I needed it and I mentally thought I would be likely to ask for it during transition but that point of 'needing it' never came. Part of me felt that if I decided I couldn't handle it, and if gas didn't provide relief then were to from there?
The midwife did another check – 7/8 cms. Woo hoo! She said 'looks like you are having a breakfast baby' This show was on the road and I felt totally confident in getting to the finish line. Shortly after this point unbeknowns to me DH took a photo mid contraction, I look like I'm in a peaceful sleep.
Transition was as expected, more intense with less breaks, if any, between contractions. I breathed slower and deeper and surrendered myself to each surge. I was incredibly hot so DH kept those cold face washers coming and affectionately dabbed my face and chest with them whenever I needed telling me how wonderful I am and how much he loved me.
At shift changed we got a new midwife with a birth centre background who was brilliant. She came to do a check and told me 'you are an amazing strong woman', 'you are going to breath this baby down', 'your baby is perfect' and 'you are doing beautifully'.
About an hour later I was mid contraction then felt a forceful sudden tensing of my uterus and I yelled at DH ' I just pushed!'. It was completely non deliberate and uncontrollable. I also felt my waters begin the trickle down my leg. I asked DH to call the midwife who returned with her encouraging words and she reassured me that everything was perfect. I was now 9.5cms. she offered to break my waters, I felt it was the right time but wasn't 100% sure. I asked DH to decide and he felt it was time. The waters were broken and were nice and clear. It was uncomfortable sitting still for the minute or so so DH held my hand and breathed deeply with me.
I went to the toilet then returned to the bed, this time on my knees. DH came to my side and said 'We are having a baby!' and began to choke up. I was in a state of disbelief and said 'I don't believe you'.
Quickly each contraction brought 3 strong sudden involuntary pushes and the midwife talked me through these and how to sustain them rather than pull away from them. She popped out of the room momentarily and when she returned she was surprised to be able to see the top of a head during each push, she raced to the phone to ask the OBGYN to rush. She asked me to slow down the pushing but I had no control, she stayed calm and said 'that's okay Darling'.
DH stayed close to my head and as I bared down he would breath loudly and deeply,***** which I imitated. This was great as it avoided me holding my breath or getting puffed out. I would also grunt and and deeply moan. The feeling of stretching hurt, and I told everyone so with a swear word or 2. But again, I felt like I could manage it and didn't feel I needed any pain medication for it. If someone had passed me the gas I would have pushed it away.
DH looked at the baby crowning and told me 'he has brown hair!' then things felt real, this baby was real and he would be here soon! I reached down and felt his wrinkly head.
The OBGYN entered and took over from the midwife, I tried to pant and push less forcefully with his instruction but this was not entirely possible.
The OBGYN had DH put on gloves and told him once the head was out DH could take over and catch the baby as per our wishes. With the next push I felt the entire baby slide out in one go and suddenly appear between my legs underneath me. I screamed "oh my god. It's a baby!' feeling genuinely shocked by this discovery and scooped him up in my arms crying "oh my god oh my god oh my god'. That moment was the most magical moment of my life. The love and amazement that was surging through me was indescribable, I have never felt such a high in my life and doubt any drug could provide it. I cried and cried with happiness. Little DS was pink, bright eyed, screaming and perfect. He was born at 9:25am on Nov 5th 2012. His Apgar score at 1 and 5 minutes were both 9. he weighed 3kgs and 49cms long (which we found out hours later)
DH helped me flip over and had a warm blanket ready to cover us as I placed DS between my breasts with his head up high. His neck was strong and he was bobbing his head up and down. The midwife administered the syntocin injection into my leg and the Vit K for the baby. The OBGYN informed me I had a tear, but I could not have cared less and felt no pain to indicate it- my entire body just felt like it was floating. Once the cord had stopped pulsating the OBGYN clamped it and DH cut it, my placenta glided out shortly after with an effortless little push.
I used calm breathing again as they used a local anaesthetic for the tear before stitching. The local didn't work correctly so the breathing was great for those initial stiches that I 100% felt. Meanwhile our alert baby boy was bobbing his head up and down on my chest and began to shuffle himself towards my breast. He knew exactly where he was going and didn't need my help getting there. Once he found my nipple he would lick, latch and let go over and over. After trying for a while I switch to a sideways laying position and DS was able to latch and feed.
After completing the feed we cuddled in bed for some time. DH spoke as DS gazed at him appearing to recognise his voice.
I decided it was time to have a shower so we could settle into our room in the maternity ward. I passed DS to DH who was shirtless and ready, DS melted in his arms. The midwife helped me to the shower. When my legs hit the ground I was surprised to realise how sprightly and lightweight I felt. I could have run a marathon! This adrenaline continued until I finally let myself sleep at 1am the following morning, I could barely sit still all day long and couldn't wipe the smile off my face. That adrenaline and oxytocin surge had me on a massive 'love high'.
DS has done brilliantly from his first moment. He feeds like a little champ and managed to gain weight well, he left the hospital already heavier than his birth weight and jumped from the 18th to almost the 60th percentile by week 10.
Now at week 11, I still feel overwhelmed by love and still loving being his mum.
Thankyou to all the amazing EB women who answered my questions calmed my anxieties and gave me hope.
2 days old- making lots of funny faces after a feed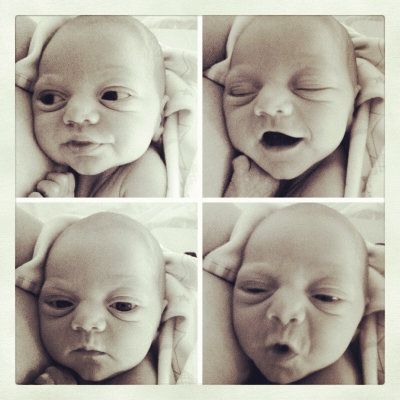 10 days old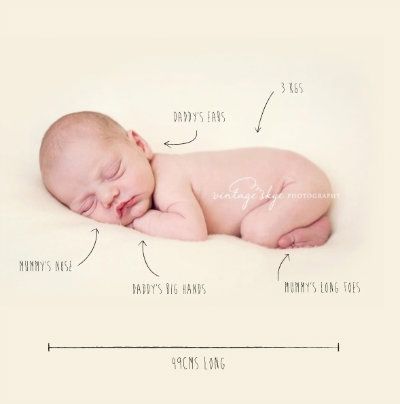 1 month old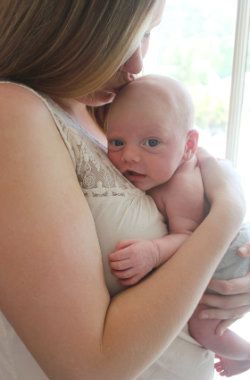 2 months old