The last time I was "home" (original home of U.S.) for Christmas was 2007. My husband & I flew 21 hours from our then-home in Singapore to Charlottte, North Carolina, where my parents now live. While they cared for our 2-month-old son, we flew with our little daughter to Chicago in order to have her assessed for ASD.
She was just 28 months at the time, not showing the most glaring signs of ASD but struggling with certain things nonetheless.
A friend of mine from my Babycenter DIG had moved mountains to help us find someone over the Christmas holidays who could assess our daughter. So that's how we ended up in Chicago on Christmas Eve. We were scared, nervous, and anxious to get some answers...and I remember sobbing when the psychologist confirmed that ASD was part of our new reality.
Five years later (and a move to Sydney shortly after that Chicago trip), and years of great early intervention & the ongoing support of a lot of great people, our toddler who struggled with SO many things is a happy, thriving, still-very-quirky 7-year-old.
We are so grateful to the friend who had the guts to say "You ought to follow up your concerns with a professional." We are so grateful to the psychologist who was willing to squeeze us in yet still offer a gold standard assessment right before the holidays. We are so grateful that we could actually afford to make that journey, as there are a lot of other similarly situated families who are forced to wait too long for help for their kids.
So yeah, if I blather on EB about how important it is to get things properly checked out if you have concerns about your child -- ASD or otherwise -- it's because that trip to Chicago changed our lives for the better.
I am so proud of my daughter and am amazed at how far she has come. Prepare for the awesomeness to continue!
Thanks for letting me brag/share my happy news.
Happy holidays, everyone!
2007 (in U.S.)
Book Parade 2012
-- Rock 'n roll pigeon costume, the star of a character from one of the stories she has written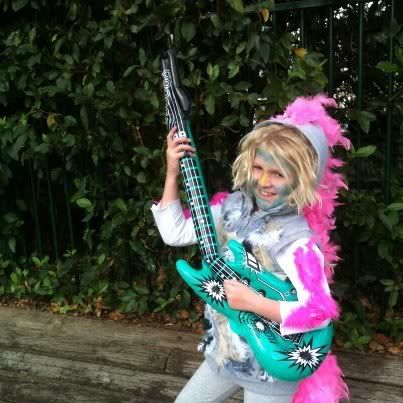 Edited by baddmammajamma, 24 December 2012 - 07:29 AM.