We are renovating our house, and due to various events (husband steam cleaning the carpet then deciding to throw it out because he couldn't get it properly clean), the master bedroom got bumped up the renovation list recently. A new bedroom suite, new paint job and new hard flooring. Our dogs, spoilt devils, sleep in our room.
In honour of the new decor in our bedroom, I decided to buy the dogs some new beds to replace the cheap, soft cushion plus rug combo they all use at the moment.
Because we have hard flooring now, I decided on trampoline style beds and envisioned 5 of them, topped with some pretty vet bed for warmth and comfort.
I checked Petstock but 5 of their beds would be about equivelant to my annual salary so I turned to eBay. Now eBay is great for prices but has the small drawback of not being able to see the actual size of the product, so one must use ones imagination. I was doing well in that department so far because I had the vision of five trampoline beds firmly planted in mine.
But something I've struggled with most of my life is the ability to envision sizes, so measurements like 130cms x 110cms mean nothing to me. But husband is good at that stuff so I asked him how big that was. He looked at our floor tiles and said it was about 4 of them.
I looked at the floor tiles and looked at the dogs and figured one dog could very comfortably fit on four floor tiles so a trampoline bed measuring 130cms x 110cms would be about right.
Husband suggested I maybe order just one or two rather than five. I ordered two. And they arrived yesterday.
We unpacked them and proceeded to assemble the first one. It looked lovely and spacious....very spacious actually. Husband queried what size I'd ordered and I told him the ones equivalent of four floor tiles.
Two beds were finally assembled and placed in the lounge room, where they took up most of the available floor space. Actually they took up all of it and getting from the dining room to the couch was pretty much impossible.
We encouraged Ripley to test it out and he tentatively stepped on one looking like he was being asked to tiptoe through a minefield. And he promptly got off. Looking very relieved that he'd survived the ordeal of the giant bed.
The rest of the dogs made a game of getting on, getting off, rolling around playing on the beds, and I was satisfied that at least two, if not three could sleep per bed.
At bedtime, I carried one bed down to the bedroom and placed it on the floor. Then returned for the second one and realised that if I put it next to the first one, I couldn't get into the ensuite. If I put it on the other side of the room, we couldn't get in or out of the room nor could we use the wardrobe. So I decided the second one could go back to the lounge room and some of the old bedding reused while I solved the dilemma of the giant beds.
I called the dogs into bed and encouraged three of them to share the new bed, then headed into the shower. When I came out, two dogs were on MY bed, one was nowhere to be seen, one was under the bed and there was Shae, the tiniest of all Aussies, lying in solitary splendour on a brand new trampoline bed big enough to hold two Great Danes.
I think our pergola might be getting a new addition of two jumbo sized trampoline beds and FiveAus will be going back to the drawing board to solve the dogs bedding dilemma.
The newly renovated bedroom with pet friendly flooring......but no dog bedding yet (and no window coverings, and no pics on walls):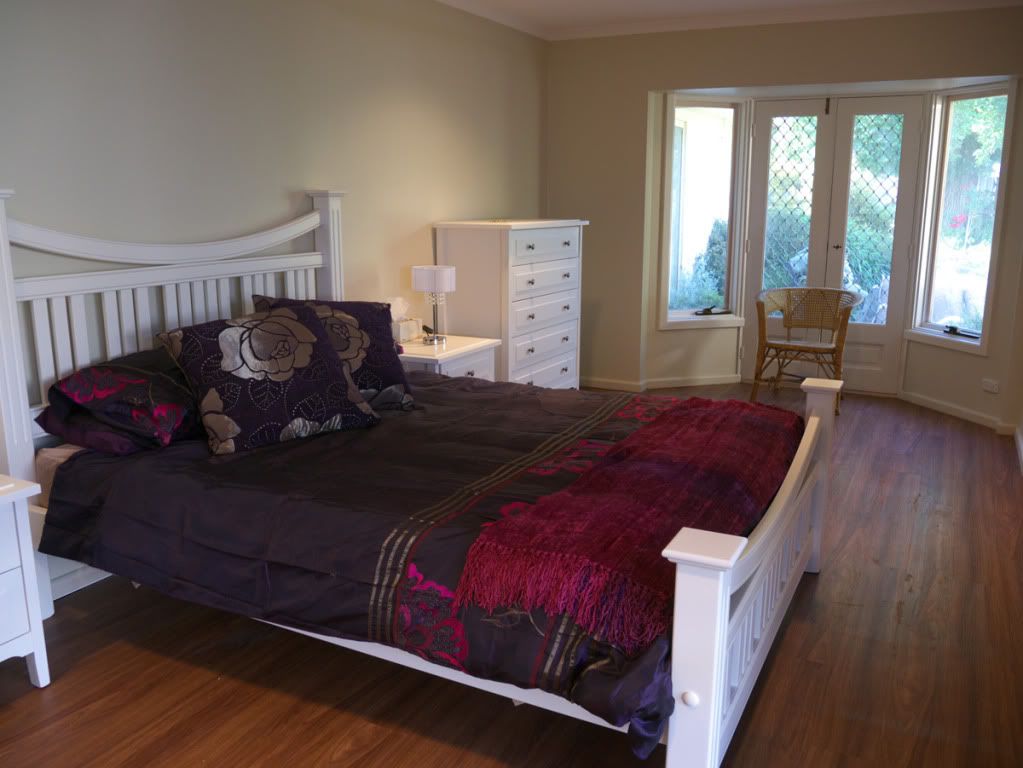 Edited by FiveAus, 13 December 2012 - 02:27 PM.