Hey everyone,
I know no one can tell me if I am, just wondering if anyone has any advice or experienced the same thing etc..
My last period was 6/nov but it was very light compared to normal and only lasted 3 days when normally it lasts 7+.
I have had a one or two tests come up with a light positive that was sooo light that my DH wasn't sure if he saw it or not. Might of been evap, not sure!
I also look pregnant ..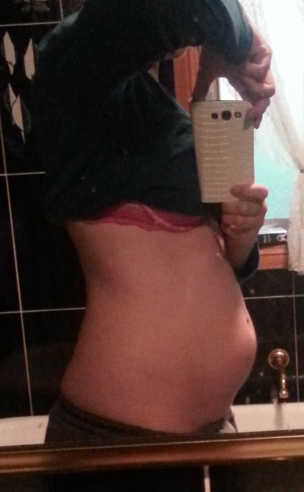 (excuse the bra!) I am just standing normally (so not pushing out). I have a layer of fat then underneath if feels semi hard.
I am peeing every hour, on and off light cramps (sometimes a light stab), light back ache on and off, nausea without vomiting, dizziness, strong sense of smell and can not stand even looking at egg it makes me want to vomit when I see it, was fine a couple months ago.
Has this happened to anyone else and what could cause it if it isn't pregnancy?
Thanks